Flett Research Radioisotope Services
We have been providing radioisotope dating services for over 30 years and have dated cores from around the world (See the map below).  Our client base is international and includes environmental consulting companies, universities, government research institutes and communities.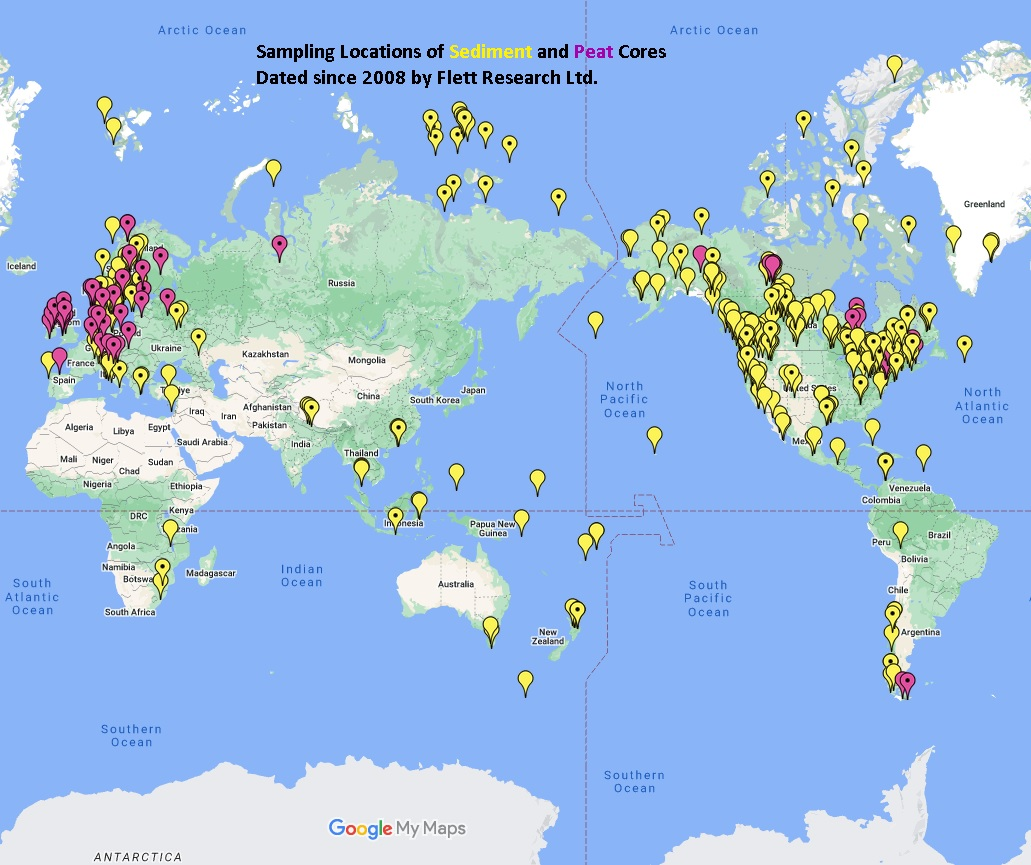 At Flett we use Lead-210(Pb-210) and Cesium-137(Cs-137) to determine the rate of sediment accumulation in lakes, oceans and other water bodies. It is typical to analyze 10 - 20 sections of a sediment core for Pb-210 and a similar number of Cs-137, covering an accumulation period of about 160 years. The age of the sediment from a particular depth in the sediment column can then be inferred. 
If modelling and interpretation are requested, the Pb-210 results will normally be modelled to obtain the best fit of the data, where possible. The CRS model and/or the linear regression model will be applied. A plot of Pb-210 activity vs. cumulative dry weight (g/cm2) is supplied with the model results and interpretation.
Several Radium-226(Ra-226) measurements are often required, usually 2 - 3 per Pb-210 core, to positively determine the Pb-210 background level throughout the core length.
Cesium-137 is used as an independent tracer to validate the Pb-210 chronology.  The Cs-137 data will be interpreted on the basis of the 1959 and 1963 major input peaks or 1966 maximum inventory of the isotope in the northern hemisphere. For us to have confidence in the Pb-210 model, it should be correctly predicting Cs-137 peak input of 1963 or the maximum inventory of 1966. The 1959 input peak of Cs-137 is not commonly seen due to the downward diffusion of the isotope and/or inadequate resolution. A plot of Cs-137 activity vs. depth (cm) is supplied with the results.
To learn more about how these radioisotopes are used in the dating of sediment cores please refer to our page on Understanding Pb-210.
Obtaining good cores and making the right radioisotopic measurements are very important in generating the best possible estimates of sediment age within a core. Refer to our Frequently Asked Questions page for answers to many of the questions relating to submitting samples for core dating.   We encourage our clients to contact us before they begin their program and would be pleased to discuss on the telephone or by email your specific project requirements.
A description of the radioisotopic methods used at Flett Research can be found here.   
Our laboratory is accredited for Pb-210, Cs-137 and Ra-226 in sediment/soil/peat by the Canadian Association for Laboratory Accreditation (CALA).  See our complete list of accredited tests at Flett scope of tests.  CALA is an internationally recognized accrediting body and a member of both the Asia Pacific Laboratory Accreditation Cooperation (APLAC) and the International Laboratory Accreditation Cooperation (ILAC).  For more information on CALA and their accreditation requirements visit their website.
The CALA accreditation program is based on the continued demonstration of performance as evaluated through interlaboratory proficiency testing and laboratory site audits and shows compliance to ISO/IEC 17025 "General Requirements for the Competence of Testing and Calibration Laboratories".   A copy of our CALA accreditation certificate can be seen here.
Flett Research participates in the ERA proficiency testing program for Gamma emitting radioisotopes (Actinium-228, Americium-241, Bismuth-214, Cesium-134, Cesium-137, Cobalt-60, Lead-212, Lead-214 and Potassium-40, Thorium-234).  These measurements may be useful to clients who wish to measure the levels of radioactive contamination in the human and natural environment. 
For additional information, contact Dr. Robert Flett at flett@flettresearch.ca
Return to the Flett Research Home Page.
---